The Road to Recovery: A Guide to Substance Abuse Treatment

Addiction makes you feel alone in a dark forest, desperately searching for the path back to the light. But you don't have to find your way out alone. With compassionate support and guidance, recovery is possible. Learn more about Substance Abuse Treatment and Recovery Options.
This comprehensive guide explores the different avenues to sobriety. We'll be your companion, shedding light on the way forward to help you rewrite your story.
Detox: The First Step
The journey begins by breaking addiction's physical hold through detox. This medically-supervised process clears drugs or alcohol from your system over 5-10 days while managing withdrawal.
Detox provides a clean slate physically and mentally to move ahead in recovery. It can take place in an inpatient facility or as part of a partial hospitalization program if symptoms are severe. Outpatient detox with medical oversight is an option for those with less physical dependence.
This difficult yet crucial first step frees you from the chain of constant substance use. It's empowering to take control back over your health. The possibilities ahead expand with each passing day of detox as the fog starts to lift. Learn more about substance abuse recovery strategies.
The Therapeutic Process
Once detox is complete, counseling and therapy help strengthen your mental well-being and equip you with skills to maintain sobriety.
Individual counseling explores triggers and root causes of your addiction one-on-one with a therapist. They act as an objective sounding board as you process emotions, gain insights, and develop healthful coping strategies.
Group counseling connects you with fellow recovering addicts. You realize you're not alone. Peers who relate to your experience provide inspiration through shared understanding.
Family therapy mends damaged relationships and invites loved ones into your recovery. Issues are resolved, trust rebuilt, and a strong home support system created.
Therapy provides a judgment-free space to unpack trauma, anxiety, grief and other challenges. You heal deep emotional wounds and integrate life's hardships into your growth. Learn more about holistic rehab options.
Peer Support & Accountability
Support groups complement therapy by providing shared wisdom from those further along in recovery. 12-step programs like Alcoholics Anonymous use group meetings, sponsors and spiritual principles to promote sobriety. Other options take a secular approach based in psychology and self-empowerment.
Regardless of specific methods, peer support fosters community and accountability. You gain hope and strength from others who understand the struggle. Their experience lights the way forward during moments of doubt or frustration.
Medication-Assisted Treatment (MAT)
Certain prescription medications help normalize brain function disrupted by drug or alcohol misuse. Options include:
Methadone – Opioid agonist that reduces cravings and withdrawal.
Buprenorphine – Partial opioid agonist, also used for pain.
Naltrexone – Opioid antagonist that blocks euphoric effects.
Acamprosate – Reduces alcohol cravings and support abstinence.
Disulfiram – Causes nausea if alcohol is consumed while taking it.
Under medical supervision, MAT eases withdrawal symptoms, reduces or blocks cravings, and supports recovery progress. Medications are one tool among many to help you regain sobriety.
Dual Diagnosis Treatment
Many struggling with addiction also live with co-occurring mental health conditions like depression, trauma or eating disorders. Integrated treatment that addresses addiction and mental illness side-by-side, also called dual diagnosis, has the best recovery outcomes.
Coordinated therapy and medication prevent each condition from worsening the other. You're empowered to manage both simultaneously with help from a collaborative clinical team.
Holistic Healing
Holistic practices nurture mind, body and spirit in gentle ways during recovery. Options like yoga, meditation, art therapy, sauna sessions, or pet therapy instill calm and promote self-reflection.
Good nutrition supports the body's natural healing abilities. Massage releases stored tension and trauma. Acupuncture balances energy flow disrupted by addiction. Time outdoors reconnects you to nature's restorative rhythms.
A holistic approach helps you tune inward. You rediscover your inner light – creativity, joy, intuition, purpose. Wholeness and wellness grow each day through renewing activities.
Family Support & Education
Addiction damages relationships and trust. Mending those bonds through family therapy and education prevents isolation on your recovery journey. Loved ones learn about addiction's nature as a disease rather than a choice or personal failing.
Inviting family into counseling sessions resolves lingering resentments. Better communication and conflict resolution tools develop. With compassion on both sides, patience through setbacks, and shared hope for the future, families reconnect and grow stronger.
Relapse Prevention Planning
It's common to encounter setbacks like lapses or full relapse while building long-term sobriety. An effective relapse prevention plan helps you get back on track if old habits resurface.
Identify your unique triggers and high-risk situations. Have coping strategies and support contacts lined up to redirect unhealthy impulses. Signs of impending relapse may include isolation, romanticizing past use, or glamorizing "just one drink". Catch these red flags early and reach out for help.
If relapse occurs, forgive yourself. The path is seldom linear. Use it as a learning opportunity, discuss what led to it in therapy, and recommit to recovery. Each day is a new beginning.
Sober Community Living
Transitioning from rehab back to daily life can be challenging. Sober living homes offer structure while allowing more independence. Residents commit to abstinence and often follow house rules like curfews and drug testing.
The substance-free environment provides distance from old triggers and using friends. You form bonds with housemates navigating similar struggles. A sober community empowers you to rebuild your life one step at a time.
Support Networks For Success
Isolation fuels addiction's fire. Connecting to others fosters mental health and recovery progress. Building a network of support helps you feel understood and gives an outlet to share wins, discuss challenges, and find solutions.
Peer support groups offer camaraderie and mutual aid. A sponsor provides accountability and lends an ear when you're having a rough day. Recovery communities give a sense of belonging. Counselors and family anchor you through all seasons.
We all need a team of supporters to thrive. Surround yourself with those who cheer your growth and rally when you falter. With encouragement by your side, each sober day is a victory.
Setting Goals & Benchmarking Progress
Recovery is most sustainable when you're moving towards something meaningful rather than just away from substance use. Set inspiring goals anchored in your core values, needs, and aspirations.
Goals provide a positive roadmap forward – reunite with family, volunteer in the community, apply to college, switch careers. Write them down and track incremental progress. Celebrate each milestone reached, no matter how small.
Therapists help plan objectives that stretch yet feel doable. Having benchmarks along the way keeps you focused and motivated. Purpose-driven goals lightning your path to joyful, fulfilling sobriety.
Navigating Work & Social Environments
Triggers lurk in work functions, social gatherings, family events, and daily routines. Have an exit plan if you feel tempted or overwhelmed. Be selective about which invitations to accept early on. Consider bringing a sober companion for support.
Ask friends or relatives not to use substances around you, especially in your home. Politely decline drinks or drugs offered. Have a non-alcoholic beverage in hand to reduce pressure. Focus on the people versus the partying.
Over time, with practice, you'll feel more confident staying grounded in challenging environments. Your sobriety becomes woven into your social identity. You learn moderation and balance. Triggers no longer dictate your choices.
Self-Care & Stress Management
Addiction drives you to extremes – either accelerated high energy or depleted lows with little in between. Recovery brings a return to equilibrium through self-care. Gentle routines provide ballast against emotional turbulence.
Sufficient sleep, a healthy diet, regular exercise, and relaxing activities stabilize mood and strength. Allow downtime to recharge when you feel overwhelmed. Seek professional help for lingering anxiety, depression or trauma.
Say no to commitments that drain you. Make time for hobbies that spark joy and creativity. Self-care fortifies the inner resources to withstand life's ups and downs with resilience.
Healthy Relationships & Setting Boundaries
Healing broken relationships often means setting firm boundaries. Be honest about what you need, whether that's space, changed behaviors, or modified interactions going forward.
End connections enabling your addiction that no longer serve your growth. Limit time with negative people who undermine your progress. Surround yourself with positive influences instead – friends committed to health and personal development.
Practice asserting your needs directly yet compassionately. Recognize when others cross your boundaries and speak up. Healthy relationships emerge as you and loved ones learn to communicate openly with mutual understanding.
Managing Comorbid Health Conditions
Chronic drug or alcohol use takes a toll physically. You may face conditions like liver damage, heart disease, gastritis, neuropathy, or cognitive impairment down the road.
Managing comorbidities ensures they don't jeopardize your recovery. Keep up with medical care, medications, and lifestyle changes doctors recommend. Don't ignore new symptoms – discuss them with your healthcare team.
Your sobriety remains the priority. Developing self-care habits and following treatment plans for related conditions helps you maintain hope, strength and progress.
Online Resources & Apps
Online tools provide on-demand support between therapy sessions. Helpful options include:
AA/NA meeting finder – Locate groups worldwide
Sober Grid – Geosocial networking app just for the sober community
In the Rooms – Global online recovery meetings and forums
SoberTool – Track sobriety time and progress
WEconnect – Get support from peers through messaging
QuitGenius – Personalized video modules to prevent relapse
Apps make sobriety resources readily available 24/7. Online communities expand your support network. Leverage technology to stay on track through mobility and convenience.
Alternative Therapies
In addition to counseling, many find success integrating alternative therapies into recovery. Options may include:
Acupuncture – Restores balance to energy meridians
Hypnotherapy – Accesses the subconscious to drive positive change
Reiki – Channels healing energy through light touch
Equine therapy – Builds trust through bonding with horses
Art therapy – Provides creative outlet for emotions
Music therapy – Alleviates stress/pain through sound & rhythm
Most rehab facilities offer a menu of alternatives to boost treatment. Natural modalities unlock your inner wisdom and accelerate healing on all levels.
Nutrition Essentials
Years of substance abuse throws the body out of balance. Strategic nutrition helps restore hormonal equilibrium, metabolic function, and organ health. Key nutrients to focus on include:
Protein – Repairs damaged tissue
Omega-3s – Reduce inflammation and cravings
Magnesium – Eases anxiety and insomnia
Vitamin C – Strengthens immunity and resilience
B vitamins – Boosts energy production and focus
Amino acids – Restores neurotransmitter function
Eat plenty of lean proteins, leafy greens, nuts, seeds, avocado, salmon, berries, and beans. Hydrate with electrolyte drinks. Avoid heavily processed foods, excess sugar, and skipped meals. Nutrition provides the building blocks to renew body and mind.
Creating Your Post-Rehab Plan
Programs like detox, residential rehab, and intensive outpatient treatment set the stage for recovery. But maintaining sobriety over the long haul requires ongoing support.
Before discharging, work with your treatment team to create a transition plan. Identify triggers to prepare for and resources to tap into. Line up counseling, support groups, sober housing, and community services.
Recovery is a lifelong journey with many chapters still unwritten. With dedication and consistent effort, you'll gain strength and resilience to thrive each year ahead, one day at a time.
Hope Springs From Within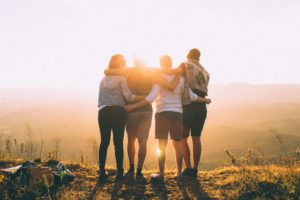 When caught in addiction's darkness, it's hard to imagine your life any other way. But you hold the light within – recovery reveals your inner radiance again. Have courage, be patient, reach out. You'll look back years from now in awe at how far you've come.
The path is there if you seek it. Healing, joy and purpose await. Make the decision to begin anew. This is the first sunrise of the rest of your beautiful life.
You've got this. We believe in you. Download free guide to help you along the way.
Navigating Addiction Recovery: A Guide for Loved Ones – Rehab Sunny